EVERYTHING YOU NEED TO KNOW
To Start A Coffee Shop Business
Choose the training below that best suits your needs and budget:

Introduction
Welcome to CoffeeTrainers.com. Whether you wish to start your own coffee shop or want to learn how to become a skilled coffee barista, CoffeeTrainers.com offers you concise answers and hands-on training at a guaranteed lowest price. We provide both hands-on barista training using state-of-the-art NSF coffee equipment as well as coffee shop training or consultations by the hour; by phone or in person. Best of all, you will train and consult with 25 year coffee shop entrepreneur and guru, Johnnie Graves.

Imagine being your own boss and running a business that earns you high-profits. There has never been a better time to start your own profitable coffee business. It's no secret that the coffee shop industry presents opportunity and potential for wealth.
Coffee Facts
•Coffee shops make up the FASTEST GROWING part of the restaurant business, checking in with a 7% annual growth rate!
•Coffee is one of the most rapidly growing industries in the United States. The USA imports over $6 billion worth of coffee beans per year. It has an annual sales volume of over $15 billion, making it the second largest commodity in the world next to oil.
•Americans consume 400 million cups of coffee per day, or equivalent to 146,000,000,000 (146 Billion) cups of coffee per year; making the United States the LEADING CONSUMER of coffee in the world. On average, coffee drinkers consume 3.2 cups of coffee daily.
•America's unquenchable thirst for premium coffee continues to drive US coffee shop sales. Coffee represents 75% of all the caffeine consumed in the United States.
Coffee Training Courses
Barista Training
If you choose our Barista Training Course, you will receive 4-hours of one-one-one hands-on training on a state-of-the-art NSF espresso machine, learn the tools and equipment needed to make the ultimate barista drinks, you will be privy to all the coffee terms and drink names, master the skill of making the finest foam, espresso shots, and learn one-on-one how to make over 25 barista drinks while you train with Johnnie Graves – a 25 year coffee shop entrepreneur. In addition, to mastering the skill of making barista drinks, you will also receive a concise Barista Recipe Guide – yours to keep as well as and discounts on wholesale coffee beans and more. We guarantee the lowest price for professional Barista Training. See fees and more information below.
Start Your Own Coffee Shop; One-on-One Consultation
If you have dreams of starting your own coffee shop, we also offer one-on-one consulting with Johnnie. He will share 25 years of proprietary secrets in the coffee business as well as answer any questions you may have about starting or operating a coffee shop. Consultations can be done in person or by phone. Some questions you might ask may include: start-up costs such as building, restaurant equipment and coffee supply prices, services, permits and licenses you, how to choose a viable location, lease suggestions, store design, health and food safety requirements and certification, building costs, zoning, customer parking and bathroom requirements, menu suggestions, marketing and much more. Johnnie's years of experience and success in the coffee business will help you save time, money and misspent effort in your decision to successfully open your own coffee business.
We also offer a detailed Supplies & Resources Guide containing all your coffee shop start-up needs and costs such as licenses, permits, equipment, coffee beans, dry and paper goods, dairy and food needs, build-out and lease costs, payroll services and more. This guide outlines everything you'll need to start your coffee business as well as a sample business proposal to help create your business plan. In addition, you'll be privy to deep discounts on premium roasted coffee beans and state-of-the-art coffee equipment through the sources revealed by Johnnie in your guide. See consultation and barista training fees below.
We're here to train you one-on-one or help answer any questions you wish to know about the coffee business.
When you train as a barista or consult one-on-one with Johnnie Graves, you will be privy to exclusive information -- everything you wish to know about starting and operating your own coffee shop. Johnnie is a skilled master roaster, coffee guru and coffee shop entrepreneur of 25 years.
About Johnnie Graves – a 25 year coffee shop entrepreneur
Johnnie has been an owner/operator and entrepreneur in the coffee business with over 25 years of experience.
He has owned and operated three successful coffee shops and has helped many others start their own coffee business.
Johnnie began as a master coffee roaster over 25 years ago, providing his custom coffee blends to restaurant establishments in the Los Angeles area. Soon thereafter, he became the manager at two coffee shop/restaurants; Café Au Lait and Prebeca in California. Johnnie later became co-owner of The Coffee Roaster in Marina del Rey, boosting sales to double their monthly income within six months of his arrival. Johnnie's expertise, business savvy and reputation soon provided him the opportunity to start his own independent coffee establishment; Johnnie's Coffee, at The Waterside Mall in Marina del Rey for 13 years. He then opened his third location at the Marina Marketplace Mall in 2005 offering fair trade, pesticide-free coffees and a healthy, delicious breakfast and lunch menu.
Johnnie is famous for excellent service, delicious premium barista drinks and creating healthy, tasty foods. He will share his successful system and if you desire, consider taking his hands-on barista training. While consulting, Johnnie can provide basic costs, resources and supplies, location suggestions, marketing and much more to help you quickly and efficiently get your business going. The secret to success is creating an on-going customer base. Johnnie will provide you with menu suggestions and marketing samples as well as a cost-effective graphic artist who can custom design your menus and business cards etc. at a very reasonable cost. Johnnie is more than happy to share his expertise and insider coffee business secrets with you.
Johnnie's Proven System
Johnnie has helped numerous individuals who have had no prior restaurant, barista, cooking or business experience.
WE HAVE HELPED MANY INDIVIDUALS START THEIR OWN COFFEE BUSINESS
To date every individual who has consulted with Johnnie has opened either one location or multiple locations. Johnnie has helped countless others open their own establishments with his expertise including: Tanner's Coffee, Felicia's Flowers, Katie's Kiosks, Sarah's Coffee Shop and many more. After your barista training and consultation(s), you may wish to operate a single location, kiosk or start a chain or franchise. Or you may start the business and sell it to make a profit. And you will never have to pay us royalties or inflated franchise fees. In fact, the owner of Tanners opened several shops after taking his training with Johnnie and recently sold his locations, making a huge profit.
See more testimonials at the bottom of the page.
Barista Training & Coffee Shop Consultation Fees
Choose the training below that best suits your needs and budget:
4-Hour Hands-On Barista Training Course:

One-on-one training with our coffee shop guru on a state-of-the-art NSF espresso machine. You'll learn dozens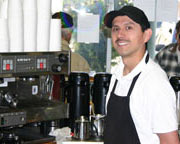 of coffee terms and specialty drinks, all barista tools required and familiarity with all aspects of operating an NSF espresso machine, be privy to coffee bean and espresso education, the art of making foam, perfect espresso, and other types of coffees, and make over 25 specialty coffee drinks. This training also includes a Barista Recipe Guide to take with you.

•One person Regular Price $1000 -- SPECIAL TIME LIMITED OFFER NOW ONLY $699 (4 hours hands-on training + one Barista Recipe Guide)
•Two persons Regular Price $1500 -- SPECIAL TIME LIMITED OFFER NOW ONLY $999 (4 hours + two Barista Recipe Guides)
NOTE: (Two persons training: both individuals must train together)
4-Hour Hands-On Barista Training + a 30 Minute Consultation with Johnnie:

One-on-one training with our coffee shop guru on a state-of-the-art NSF espresso machine (see more details above on this training), plus receive a 30 minute consultation with Johnnie. After completing your 4-hour barista training (as noted above), you may ask unlimited questions about the coffee shop business such as start-up costs, lease signing tips, how to find the best location, all supplies and equipment needs, business proposal source, employee hiring tips, marketing etc. for 30 minutes. This training also includes one Barista Recipe Guide.

•One person Regular Price $1350 --SPECIAL TIME LIMITED OFFER NOW ONLY $899 (4 hours +30 minute consultation+ one Barista Recipe Guide)
•Two persons Regular Price $1700 -- SPECIAL TIME LIMITED OFFER NOW ONLY $1200 (4 hours + 30 minute consultation+ two Barista Recipe Guides)
3-Hour Coffee Bean Roasting Lessons:
Learn the art of coffee bean roasting with our master coffee roasting trainer. You will train one-on-one with our expert on a 25 pound NSF approved coffee roaster in a professional coffee roasting facility. You will also be educated on coffee growing regions and various types of beans and roast 4-5 different single original coffees hands-on with our expert. In addition, you will learn how to chart and develop roasting curves for each batch you roast, as well as develop a system of how to keep records of roasting curves. Lastly, you will do coffee tastings of your freshly roasted batches and receive a sample of your roasted product to take with you.
•One person, 3-hour coffee bean roasting lessons -- ONLY $700 (Regular $1000)
Contact LOUISA for more information at 310.990.2704 or
Supplies & Resources Guide:

This concise guide lists all prices/costs and fees of a start-up coffee shop including an extensive list of all operating needs such as licenses, permits, certifications, build out costs, restaurant and espresso equipment needs, all foods, dry and paper goods, dairy, coffee beans, opening stock, marketing ideas, sample menus, lease signing tips, bathroom and parking requirement, and much more. This guide is the ultimate tool needed to write your business plan, to help secure a loan as well as provides myriad time-saving resources and insider information required to start your own coffee business.
•Regular Price $550 -- SPECIAL TIME LIMITED OFFER NOW ONLY $350
Coffee Business Consultation by the Hour with Johnnie:

Johnnie will answer any questions you have about the coffee shop business and provide invaluable, time-saving coffee shop "insider expertise". Ask about start-up costs and fees, cost of a lease, supplies, equipment, licenses, permits, build-out costs, services, finding the best location, writing a business proposal, etc. Save time, money and headaches by asking questions and get the truth about what it takes to own and operate a successful coffee business.
•Up to two persons -Thirty minutes by phone -- SPECIAL TIME LIMITED OFFER NOW ONLY $250
•Up to two persons - One hour by phone or in person in Los Angeles area -- SPECIAL TIME LIMITED OFFER NOW ONLY $425
On-Location Staff Training, Store Set-Up or Consulting by the Day or Week:

Coffee guru Johnnie, will travel to your location in the USA or Canada to train with you and your business partner and/or staff. Johnnie will provide personalized training and consulting customized to address your individual needs. His services include: location scouting (if you do not have a location), employee training, barista training for up to three individuals, creation of unique breakfast and lunch menus, training your staff to prepare recipes, help with restaurant set up, marketing suggestions, and assistance with store openings. In addition, unlimited questions may be asked throughout the duration of training. Fees noted below include a Supplies & Resources Guide + Barista Recipe Guide.
•One 8-hour day in the USA or Canada -- SPECIAL TIME LIMITED OFFER NOW ONLY $2500
•Two 8-hour days (16 hours) in the USA or Canada -- SPECIAL TIME LIMITED OFFER NOW ONLY $4000
•Five 8-hour days (40 hours) in the USA or Canada -- SPECIAL TIME LIMITED OFFER NOW ONLY $7500
CONTACT Louisa AT: 310.990.2704 to schedule your training session and discuss fee payment or EMAIL...
Hotel accommodations and transportation to and from our training location in Los Angeles will be your responsibility. Out-of-towners will be provided a list of hotel establishments within walking distance to the facility where you will train.
"If you're interested in being in the coffee business in any capacity, I strongly suggest you give CoffeeTrainers.com a try. Whether you're interested in opening up your own shop, an established owner that wants to train their staff, or just want to learn the basics, Johnnie and Louisa have got you covered. Setting up an appointment is simple: all you need to do is send an e-mail to Louisa. She'll respond within twenty-four hours and will work with your schedule in order to accommodate a time frame that will work for all parties involved. Louisa will also send a confirmation/reminder e-mail the day before training.
Training takes place in a professional roasting facility. Johnnie, who has a vast amount of experience opening and operating coffee shops, does the bulk of barista training. You're baptized by fire as Johnnie immediately starts training you in a mock station. The station is set up to be nearly identical to the environment a barista might find himself in. All of the equipment used is industry standard. In fact, most of the equipment used during barista training is far superior to anything your everyday coffee shop would have behind the counter.
Johnnie will cover everything you'll need to know as you learn how to make all your standard hot, iced, and blended drinks (in addition to a few odd requests you may run into). The great thing about training in this set up is that you'll have access to the very best equipment in an easy going, no stress environment. Trainers are given ample time to become comfortable with each step and Johnnie makes certain that you're at a good level of consistency and comfort before moving on. At the end of the day you should be able to slip into a coffee shop's roster of baristas while maintaining the shop's standards of flavor and efficiency of service. In addition to learning about the various types of drinks you'll need to know, you get a barista recipe guide to take with you and Johnnie will also familiarize you with every single piece of equipment you're likely to run into as well as the maintenance needed to keep your well oiled machine running like a well oiled machine.
At the conclusion of the barista training you will be afforded the opportunity to sit down and have a 45-consultation session with Johnnie and Louisa. Here, Louisa will go over a well written supplies and resource guide. The guide includes everything you'd need to know in the realm of operations. It covers everything from 'where to get your supplies, what's a fair (current) market price, various red tape, customer interaction, marketing and branding, and a lot more. Consultation is also a great time to squeeze in any questions you've forgotten to ask previously (though I?ll doubt you'll need it [prior to my training, I had jotted a significant amount of questions on a notepad, and by the end of my training and consult every single one of them had already been answered]).
You'd really be hard pressed to find a better experience - especially at the price point. I had done my research before contacting Louisa. I found other reputable programs, but the fees were usually much higher, scheduling was usually not as flexible, and programs were generally inefficient with the time used to train you. CoffeeTrainers.com has definitely streamlined the process without any detriment to your education.
On top of everything, Johnnie and Louisa are just great people and are easy to build a rapport with. It's plainly clear that they care about your education and want to equip you with the tools to land a position at a reputable coffee shop or open your very own by the day's end. Between their outgoing personalities and vast amount of experience, it's really easy to see why they're so successful in their industry. Whether you're interested in acquiring a new skill set or looking to embark on a new business venture, you should definitely start by training with Johnnie at CoffeeTrainers.com."
Evan H. Glendale, CA
"I've always wanted to own a coffee shop and after my training with Johnnie and Louisa, they answered more questions and taught me more than I ever expected. Another coffee franchise wanted to charge me $150,000 just for the training manual!! If coffee is your passion then call Johnnie to get the scoop on the coffee biz." Rudie B.
"After training with Johnnie and Louisa I quickly became very aware of what it really took to own a coffee business. This was THE best experience and I would have never been able to get any of this information from a franchised coffee place unless I paid an arm and a leg. They are a really cool couple for sharing their expertise. Before you start a coffee business, you need to meet Johnnie and Louisa." Amanda B.
"I opened a coffee kiosk in an office building after my training with Johnnie. I now have three kiosks going and my business is booming. Katie S.
"My husband and I contacted Johnnie to help us learn about starting a coffee business here in Iowa. We flew down for the weekend and we learned everything we needed to know. Johnnie even answered questions after we arrived home. Now we've got two successful coffee locations." Sheryl & Larry
Coffee Tips and Facts
By Coffee Guru, Johnnie Graves
Did you know?….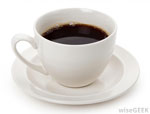 In the 9th century an Ethiopian goat herder noticed his usually lethargic goats had more energy after having eaten the red berries off an evergreen tree. He gathered these berries and soon thereafter, coffee was born. It took another 250 years before it became a popular drink, and another 415 years before it reached Europe around 1515.
Now an estimated 4 out of 5 people start their day with coffee. One third of the water used in North America is used for brewing coffee. The coffee industry employees over 25 million people worldwide. And the next time you're having a cup of "Joe" share this interesting fact -> Europeans in World War II referred to soldiers as "G I Joes" because they consumed lots of coffee. Thus a cup of " Joe" was born.

Training /Consulting Terms Agreement:
You have read and expressly understand that after training or consulting with our expert(s), that securing a job as a coffee barista or operating a successful coffee shop business is not guaranteed by trainer/expert(s), owners, associates or heirs of Johnnie Graves nor will the named herein be held responsible for any liability, loss or injury which may take place traveling to and/or from the training location or during training. Transportation or hotel accommodation is responsibility of out-of-towners. The training fee is non-refundable and must be paid in full no later than seven days prior to training date via "Certified Check" and mailed to the address provided. You agree not sell or post the trade secrets shared with you during training or consulting. Prices quoted for equipment, supplies, materials, etc. may be subject to change due to location and economy. Please check pricing in your area. Store design may vary from city to city depending on health and building inspector specifications.

CONTACT LOUISA TO SCHEDULE CONSULTING OR BARISTA TRAINING at 310.990.2704 or email